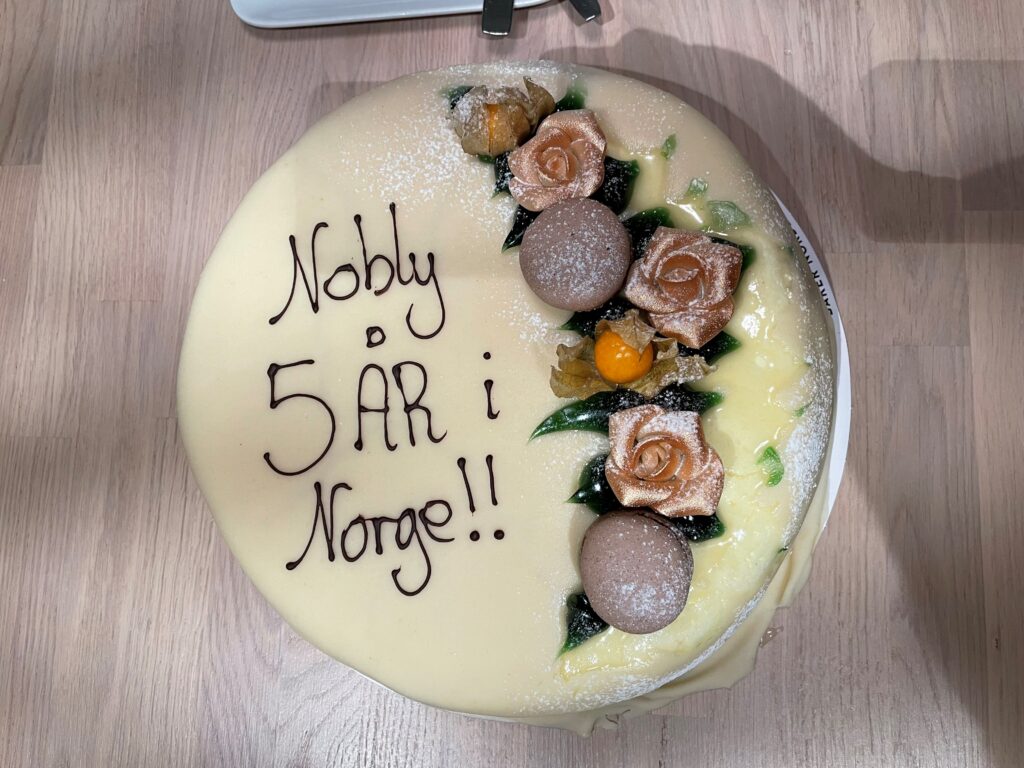 Five years ago, Nobly established a company in Norway with the vision of becoming the leading provider of Content Management solutions for the financial sector in the Norwegian market. Over the past five years, it has exceeded expectations. The Norwegian division has evolved from being a small startup with one employee to a significant player in the market, currently employing eight Norwegians.
"One of our strategic objectives has been to establish a Norwegian organization that can independently serve our Norwegian clients. I am incredibly pleased with the team we have built in Norway. They are a highly functional and competent team that complements each other well. Moreover, they are very well-liked by our Norwegian clients," says Jesper Frank, CEO of Nobly.
He also highlights that with Nobly's Norwegian division, they have created a strong local cultural connection that builds upon Nobly Group's strong set of values. The presence in Norway provides Norwegian clients with easy access to support, implementation assistance, and strategic advice.
Furthermore, Nobly has several major Norwegian hospitals in its costumer portfolio. Due to a new strategy in the healthcare sector, Nobly will make additional investments in this segment. In addition to OnBase solutions, Nobly will also offer solutions in Enterprise Imaging, which is expected to be a significant growth area.
Increased compliance calls for digitalization
The requirements of the financial sector are constantly increasing, leading to greater complexity in daily work processes. This creates a need for even greater digitization and standardization of processes. According to Jesper Frank, this is one of the reasons why Norwegian clients have chosen Nobly as their advisor and supplier. Through collaboration with Nobly, they can remain compliant while increasing their efficiency, positively impacting both competitiveness and the bottom line.
For many financial companies, the ability to be competitive and offer the best and most user-friendly solutions is a crucial focus area. It is essential that they can deliver the necessary information in a timely manner, all in the most suitable way and on the preferred platform for consumers, without requiring extra resources. This is a non-negotiable requirement that every provider must meet. This puts existing players, who typically have some technological debt to deal with, in a very challenging position.
"IT security is incredibly important, especially for financial companies. The Norwegian market is governed by regulations that require data to be stored in Norway and that data processing itself must also take place in Norway. Therefore, Nobly has invested in being able to deliver its cloud solutions from infrastructures located in Norway, ensuring that data is both processed and stored locally in Norway," says Jesper Frank.
Great potential in the Norwegian market
According to Jesper Frank, Nobly is witnessing an increased need for digitization among customers in Norway. Therefore, he expects Nobly to expand its collaboration with existing customers and establish partnerships with new customers.
"We will continue to invest in our Norwegian organization. I anticipate seeing the same growth in the number of Norwegian employees as we have seen over the past year. There is no doubt that we have a strong focus on delivering first-class service to our existing customers. However, we also need to find time to establish new customer relationships," says Jesper Frank.
Does your company wish to improve efficiency and customer satisfaction, as well as accelerate the launch of new services in the market by automating cumbersome work processes? Then do not hesitate to contact us for inspiration and solutions.
Read the article about when Nobly entered Norway in 2018