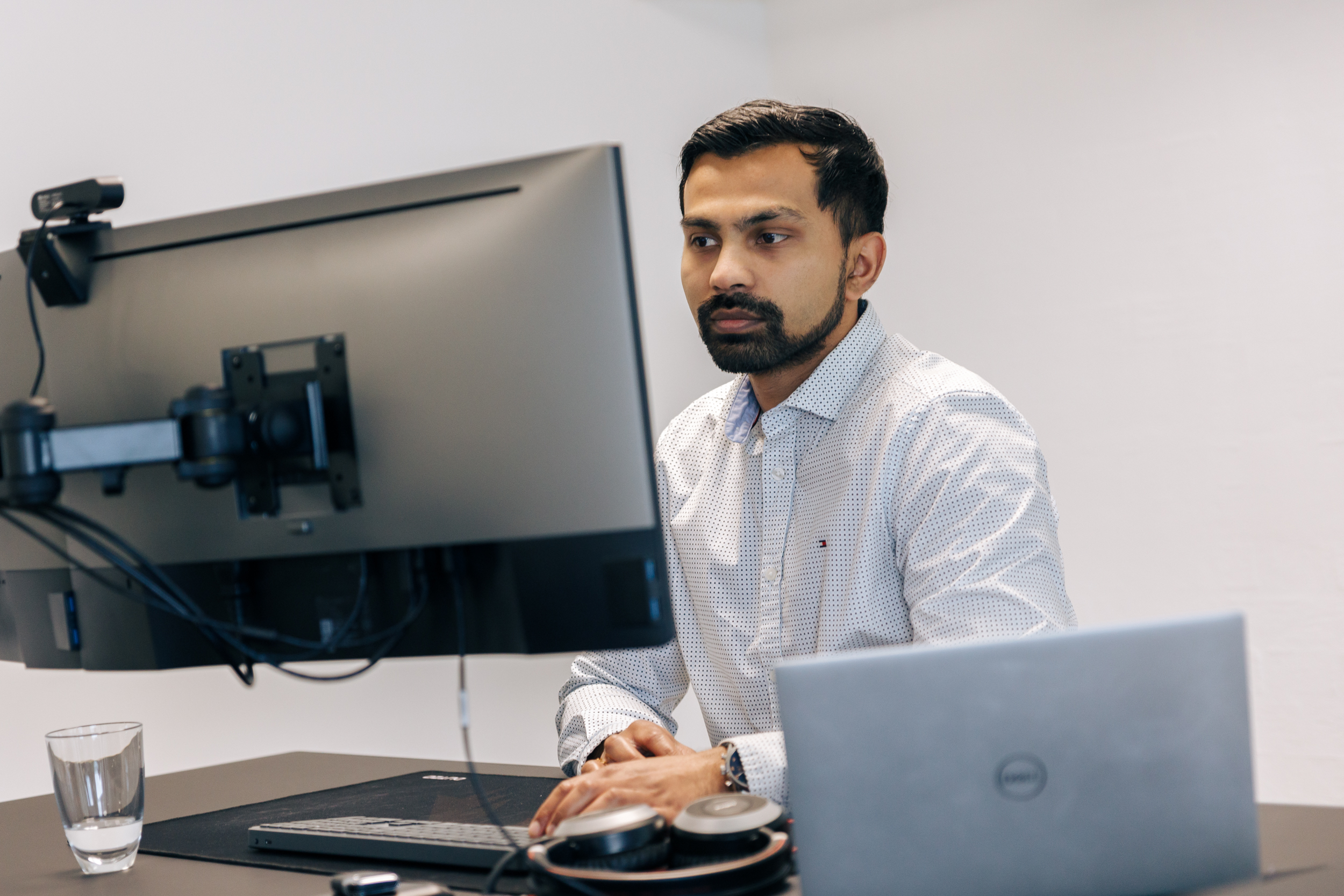 Apply for a job as a systems consultant
Nobly is growing and expanding its team of system consultants
Take the opportunity to become part of our skilled team of consultants who work as consultants and executive consultants of Content Service solutions for larger companies in the Nordic region.
Nobly is looking for system consultants with several years of experience and solid IT technical basic understanding, who are motivated by developing elegant solutions to digitalisation and workflow challenges for new and existing customers.
Nobly is experiencing great growth in the areas of financial services and health trusts, and therefore we need more skilled system consultants to actively contribute to our further development.
The job as a system consultant is challenging, versatile, and exciting for candidates who are motivated by solving tasks, as well as identifying and breaking down issues and thus creating value for customers. As a system consultant, you will be part of a small implementation team that works agile in a 14-day sprint.
Responsibility
Advising customers on solution proposals
Identify, break down, and solve technical challenges together with our customers
Execution of consulting tasks in collaboration with our customers
System implementation
Knowledge sharing with colleagues
Contribute to the development and implementation of Best Practice solutions
Daily participation in SCRUM team meetings
Deliver tasks with the agreed scope at the agreed time
Your qualifications and areas of interest
Interest and curiosity to work with databases, operating systems, networks, and server- operation/support
Experience with implementation and development of technical solutions, preferably within Microsoft Dynamics, ServiceNow, Jira or SAP
Overall understanding of development / programming
Motivated by working with both customers and internal key people
Basic knowledge about infrastructure, scripting, implementation, and technical problem solving
Experience with Content Service solutions
Motivated by the many opportunities offered by the OnBase platform and associated technology
Ready to spend the first time getting to know the system (OnBase)
Knowledge of data structure, metadata, and workflows as well as integration with 3rd party systems
Experience with rapid application development, which is part of our Case Management solution
Technically, we work with:
Configuration of the OnBase platform
Integrations to various 3rd party systems
Databases (MSSQL)
Scripting and automation (Powershell and .NET)
We see that you are:
Eager, patient and have a desire to learn a system from scratch
Technically minded with a logical and analytical mindset
Motivated by collaboration whether it is with customers or colleagues
Find great value in going into the details
Aware of one's own values such as integrity, orderliness, and empathy
Busy with delivering high quality and professionalism
Works analytically to solve problems
Independent problem solver
Motivated by having your hand on the stove
Take on challenges and new challenges with optimism and courage
Desire to become more skilled, and passionate about providing our customers with the best service
Appreciate a workplace with high ceilings, freedom under responsibility and with social activities
Emphasize opportunities for both professional and personal development
With us, you get a place in a team of 35 employees at four locations in three countries with headquarters in Aarhus. We focus on delivering high quality in everything we do. At the same time, it is important for us that we have fun together and take good care of each other. In addition to a good and social work environment, we offer great flexibility. Nobly is a flat and informal organization with good opportunities for influence and opportunities to be able to greatly influence their own everyday work within agreed frameworks. We take culture, professionalism, and decency seriously. We offer competitive conditions with salary, pension, and health insurance, as well as meal arrangements, fruit and coffee/tea/soft drinks – and we always appreciate a piece of cake. In addition, we offer a good deal of social activities.
Travel activity can be expected to a lesser extent.
Nobly
Nobly is Europe's leading consulting house in Content Service solutions, where we are a certified partner on the OnBase platform from Hyland, which has been named one of the world's best Content service platforms for several years in a row.
Nobly has branches in Denmark, Norway and Sweden, and since 2011 we have implemented and run business-critical IT solutions for many companies within e.g. the banking and insurance sector, the manufacturing industry, and health trusts.
How to apply for the position or get answers to questions
Contact Chief Consultant in Nobly NO – Kristoffer Gundersen by email: kg@nobly.no or tel. +47 926 14 908.
Application deadline: Open. We regularly call in applicants for interviews.
We look forward to hearing from you!