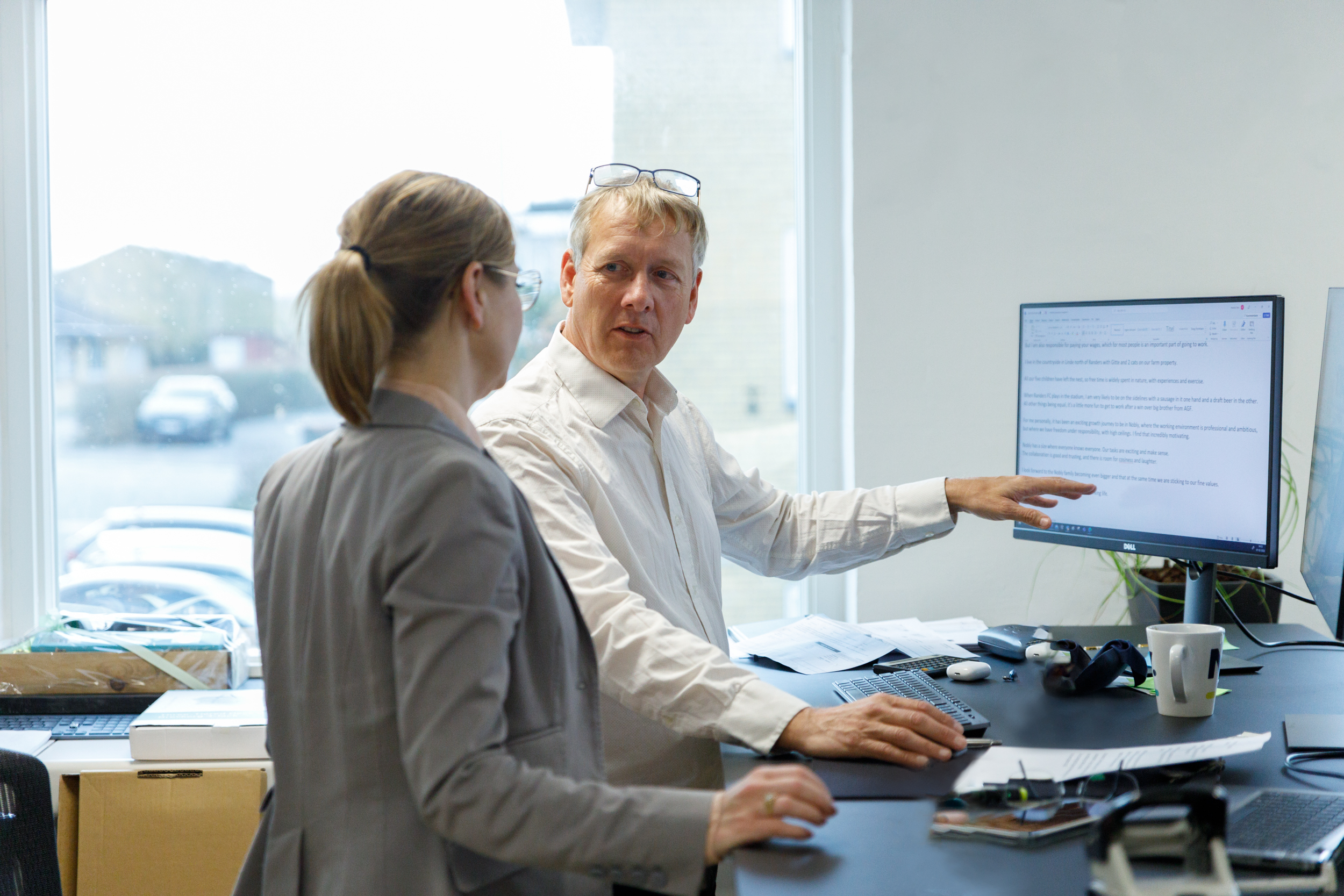 Apply for a job as Director of Operations/COO
Nobly is doing well and we are constantly looking for new colleagues
Nobly is undergoing rapid development and we are looking for an Operations Director/COO who, with visible and present leadership, professionalism and good energy, can help lift our delivery organisation to the next level and ensure continued growth in our hourly business both organisationally and financially.
Nobly is experiencing strong growth and needs a strong management profile to further develop our delivery organisation and actively contribute to the management team. Your main workplace will be the head office in Aarhus.
The job as Director of Operations/COO is exciting, challenging and versatile, with great opportunity to put your own stamp on how the operational organisation will be further developed. You will have financial responsibility for the operational organisation, which you will take to the next level through optimisation, efficiency and new developments. Your team currently consists of 20 employees, at our 4 locations in Aarhus, Copenhagen, Oslo and Stockholm, working within: Support & Cloud, Process & Project Management & Implementation.
We have high growth ambitions, which require us to develop and retain existing staff while recruiting and onboarding new ones at the speed necessary to support our objectives. It is essential that you build the right organisation needed to deliver our growth objectives. It is also important that you manage to grow the turnover in your area of responsibility.
Your responsibilities will cover:
Ensure growth of the company's hourly business
Ensure profitable customer implementations
Optimisation of operating costs
Developing new customer services that impact the bottom line
Personnel responsibility with high employee satisfaction
Ensure retention, development, recruitment and onboarding of employees
Prioritisation and effective implementation of customer projects
Efficient and secure deployment of customer solutions in Microsoft Azure
ISAE 3000 information security certification
Developing and maintaining best practices in everything we do, including ensuring the development of necessary documentation
Videreudvikling af eksisterende processer og koncepter inden for projektafvikling, drift og kundesupport
Cooperation with the sales department regarding. customers and expectations for future projects
Communication with customers in connection with other service projects
Conducting customer satisfaction surveys
Sparring with the rest of the management team
Qualifications, experience and areas of interest
You have experience in software deployment, cloud operations and support of software solutions and are motivated by working with various customer-driven solutions.
You are probably coming from a technology company where you have a strong track record in the above disciplines, with several years of management experience in an operational organisation.
You are a good communicator internally as well as externally and you work systematically and can maintain a good overview in pressured situations
You have experience with SCRUM methodology, you know Jira and you have worked with information security certifications like e.g. ISAE 3000. Knowledge of Content Service solutions would be an advantage.
You have business acumen and can drive the bottom line in your department, as you can document from similar positions
You are motivated and thrive in a professionally challenging environment where issues and challenges are solved through an analytical approach and a good and constructive dialogue.
You are able to make the tough decisions based on the right priorities and communicate this internally as well as externally.
It is important to you that everything you do is of high quality. High employee satisfaction and high customer satisfaction are important focus areas for you.
You succeed in the role when:
You succeed in building the right organisation that effectively onboards and develops employees
You implement best practices to make your organisation more efficient and predictable
You succeed in growing our revenue and strengthening the profitability of customer deliveries
You will develop new services and implement operational optimisations that contribute to increased revenue and profitability
Projects are delivered on time and customer satisfaction is top
Build strong procedures that continuously ensure Nobly's information security certification and that this is developed as customer and market requirements increase
What you get in a job at Nobly
We offer you an exciting and challenging job in a good social and flexible working environment. We focus on delivering high quality in everything we do, as we want to deliver the good customer experience. At the same time, it's important to us that we have fun together and take good care of each other. Nobly is therefore a workplace with high ceilings and room for the individual. We therefore place great emphasis on social activities. We offer a social working environment with great flexibility and good development opportunities both personal and professional. Our values are integrity, fairness and empathy.
You will have the opportunity to shape your own working day within the agreed framework, where culture, professionalism and seriousness are important parameters. Nobly is a workplace with high expectations and great freedom under responsibility.
We offer competitive employment conditions including fixed salary, pension, health insurance and lunch including fruit and coffee/tea/soft drinks etc.
Nobly
Nobly is Europe's leading consulting house in Content Service solutions, where we are a certified partner on the OnBase platform from Hyland, which has been named one of the world's best Content service platforms several times in a row.
Nobly has branches in Denmark, Norway and Sweden, and since 2011 we have implemented and operated business-critical IT-solutions for a large portfolio of companies within e.g. the banking and insurance sector, the manufacturing industry, and the Danish regions.
How to apply for the position or get answers to questions
Contact HR partner in Nobly – Nellie Ginnerup by email: job@nobly.dk or tel. +45 30 14 10 65. +45 30 14 10 65.
Application deadline: Open. We regularly call applicants for interview.
Starting date: As soon as possible by appointment.
We are looking forward to hear from you!