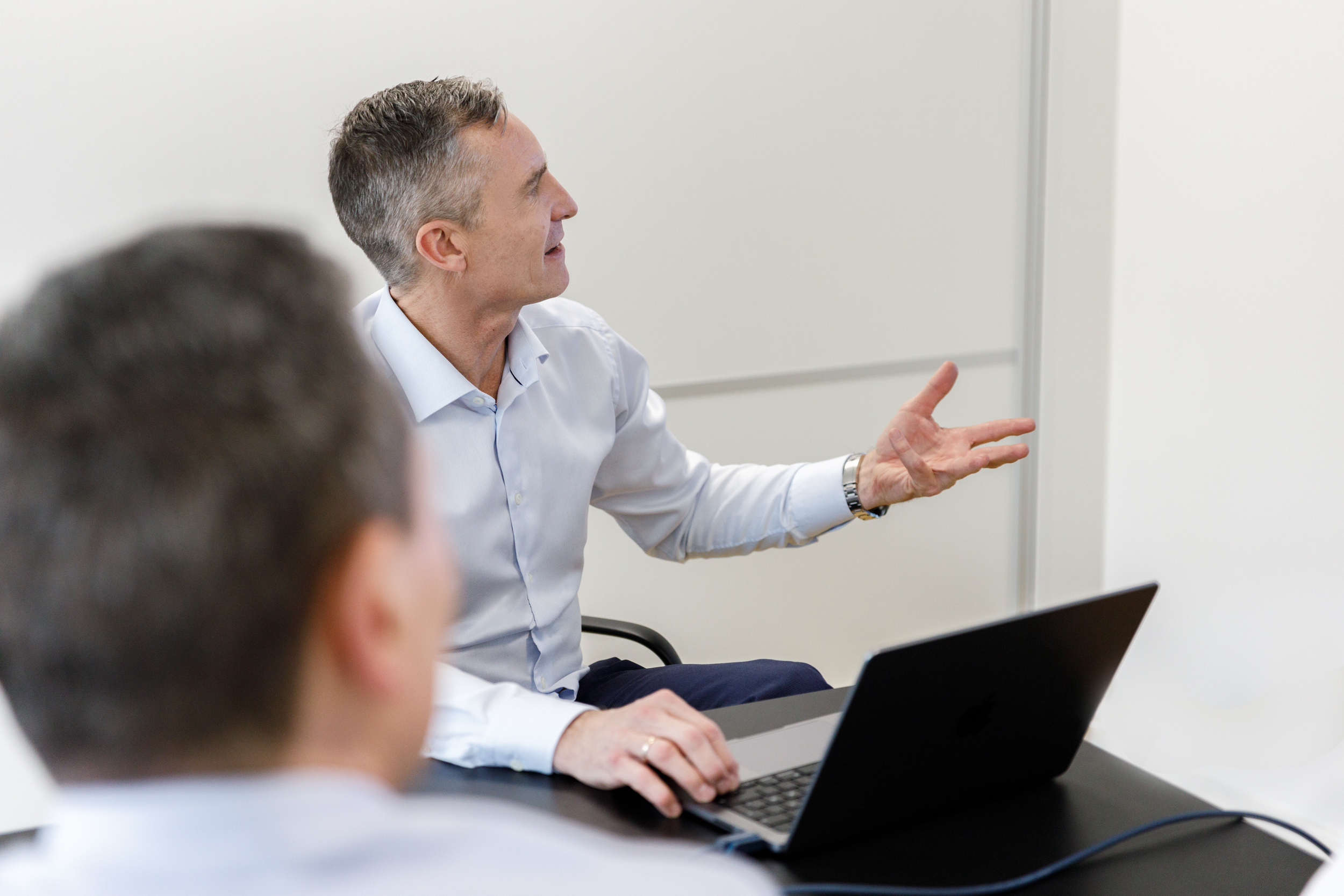 Apply for a job as Technical Lead for Development team
Nobly is doing well and we are constantly looking for new colleagues
We are on an exciting growth journey and need a strong profile to further develop our development team in the role of Tech Lead, who is motivated by working with customer solutions. We would like you to also have a desire, interest and perhaps experience in management.
The job of Dev. Tech Lead is challenging and exciting for you who are motivated by further developing a team and thrive on working agile. Daily SCRUMs, specification and planning of development tasks and choosing the right technology for the task are part of your daily routine. You are also motivated by collaborating and being a liaison between our implementation teams and the development team, and are not afraid to actively participate in customer meetings when necessary.
Your main tasks will be:
Daily handling of impediments and technical sparring with the developers.
Quality assurance of development work and methodologies, including backlog refinement
Code Review and Pull Requests
Engage with customers as well as internal project managers and implementation consultants for clarification of tasks and scope
Planning, specification and prioritisation of tasks and resource allocation
Ensure good development of your Team Velocity
Managing Code Repositories in GitHub as well as artifacts in DevOps
Responsibility for team development and composition in interaction with management and HR
Quarterly employee check-ins focusing on well-being, skills development and objectives
Ensure good employee morale/development and motivation
Communicate Nobly's solutions and ideas, strategic information, attitudes and requirements etc. to the team
After an onboarding period you will gain insight and knowledge of Nobly's solutions and a good understanding of our customer projects. Your success will depend on your ability and motivation to ensure effective task completion within the development team and to contribute to the continued organizational development in line with the company's growth. In addition, you thrive in a professionally challenging environment where you find great value in attention to detail with a focus on high quality and professionalism.
Strong interest and curiosity in working across disciplines
As a link between your own team and Nobly's other departments, you must have the interest, curiosity and communication skills to work interdisciplinarily. You will probably have a Master's degree in a relevant IT development field such as: Data Engineer, Computer Scientist, Computer Analyst, Cand.IT, Software Technology diploma. You have about 3-5 years of developer experience and preferably experience as Tech Lead and with management. It is essential that you have knowledge of data structure, metadata and workflows as well as integration to 3rd party systems in addition to a knowledge of for example C#, .NET Standard, Angular, MongoDB, MSSQL or Typescript.
What we emphasise
Creating value for the customer and Nobly is something we value. We are looking for someone who is fresh, patient and has the courage to find your own way in a complex and exciting role, where you independently and driven by team spirit make your mark on the department and the organization. You find great value in having an overview, and most importantly, you are motivated by having your hand on the stove, where you take a problem-solving approach.
What you get in a job at Nobly
We offer you an exciting and challenging job in a good social and flexible working environment. We focus on delivering high quality in everything we do, as we want to deliver the good customer experience. At the same time, it's important to us that we have fun together and take good care of each other. Nobly is therefore a workplace with high ceilings and room for the individual. We therefore place great emphasis on social activities. We offer a social working environment with great flexibility and good development opportunities both personal and professional. Our values are integrity, fairness and empathy.
You will have the opportunity to shape your own working day within the agreed framework, where culture, professionalism and seriousness are important parameters. Nobly is a workplace with high expectations and great freedom under responsibility.
We offer competitive employment conditions including a fixed salary, pension, health insurance and a meal plan including fruit and coffee/tea/soft drinks – and we love cake.
Nobly
Nobly is Europe's leading consulting house in Content Service solutions, where we are a certified partner on the OnBase platform from Hyland, which has been named one of the world's best Content service platforms several times in a row.
Nobly has branches in Denmark, Norway and Sweden, and since 2011 we have implemented and operated business-critical IT-solutions for a large portfolio of companies within e.g. the banking and insurance sector, the manufacturing industry, and the Danish regions.
How to apply for the position or get answers to questions
Contact HR partner in Nobly – Nellie Ginnerup by email: job@nobly.dk or tel. +45 30 14 10 65. +45 30 14 10 65.
Application deadline: Open. We regularly call applicants for interview.
Starting date: As soon as possible by appointment.
We look forward to hearing from you!